Image: Favela de Paraisópolis ('Paradise City') within São Paulo's wealthy Morumbi area (Photo: Tuca Vieira, 2007).
From the Occupy Movement to Thomas Piketty to current proposals for a new set of Sustainable Development Goals, inequality has emerged as one of the most intractable challenges of our time, and everyone, from activists to academics to policymakers, is talking about it.
Yet despite all the attention, discussions on inequality have so far paid little attention to the underlying politics that help sustain it. At its core, making development more inclusive and broad-based involves altering existing power structures and dynamics – it entails not only growing the size of the pie but also (re)allocating the slices, as my colleague David Hudson has put it.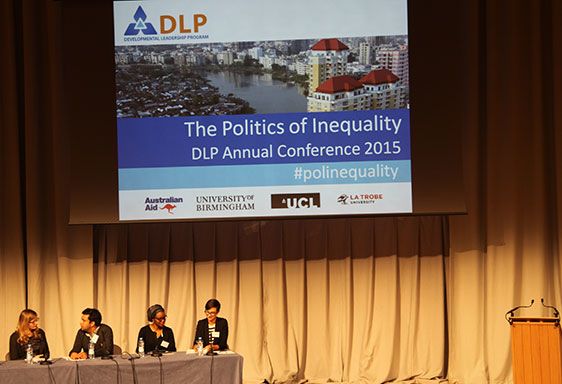 How – and whether – this can be done was the theme of the second annual DLP conference held in Birmingham last week. It is also the focus of a collaborative DLP research project that Duncan Green introduced at the conference.
The conference helped to crystallise that tackling inequality is not simply about "getting policies right" from a technical perspective, but about identifying policies that are politically viable given a particular context, and seeking to align interests and incentives in more progressive directions. A mixture of different institutional, agency, structural, and economic factors have been essential in facilitating more equitable and inclusive development across time and place. Here are my main takeaways from the day.
So the possibilities for progressive change will depend on whether an effective combination of institutions, leaders, parties, interests, incentives, ideas, and pressures from both above and below can come together.
Even then we don't know how processes of change and transformation will pan out. Multiple trajectories of institutional transformation are possible, but they are likely to be messy, involve difficult dilemmas and trade-offs, and are bound to be constantly negotiated and contested.
Indeed, transformations have often proved to be tumultuous and violent. This prompted Heather Marquette's provocative question – are we trying to cheat history by thinking it is possible to engineer processes of change that remain violence free? The fate of the Arab uprisings, where only Tunisia seems to have turned the corner, certainly gives pause for thought.
Pathways and outcomes are by no means predetermined or predictable. Much will depend on contingency and, yes, even luck – a fortuitous alignment of the stars that always has the potential to go more than one way.